Bell-and-spigot joint provides quick and simple installation with improved watertightness
Hi-Flo HDPE Duo Tite pipe from AIL is a corrugated double wall pipe that offers the win-win combination of a secure bell-and-spigot connection with a smooth inner wall for optimum hydraulic flow.
Fabricated from High Density Polyethylene, Hi-Flo HDPE Duo Tite is ideal for storm sewer and drainage pipe applications and is available in diameters from 100 mm – 900 mm (4″ – 36″). It has a stiffness of 320 kPa, which meets the requirements of CSA B182.6, CSA B182.8 and BNQ3624-120.
Hi-Flo HDPE Duo Tite – Bell End Double Wall Pipe is now available in Central and Eastern Canada
Hi-Flo HDPE Pipe is manufactured from AIL's new facility to serve the drainage requirements of Ontario, Quebec and Atlantic Canada.
Also available:
AIL's Hi-Flo Uno Flex – Single Wall Pipe
AIL's Hi-Flo HDPE Duo – Double Wall Pipe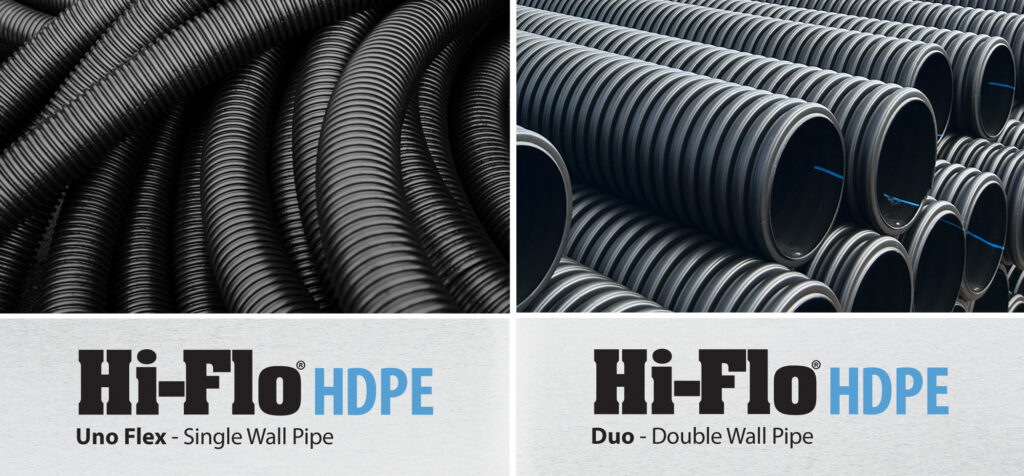 Get general information, features and benefits for this double wall bell-and-spigot end HDPE pipe with a smooth inner wall for optimum hydraulic flow.

Get more detailed information on pipe requirements, material properties, dimensions, product configurations, joint performance and installation details.
WE'RE READY TO HELP PLAN YOUR PROJECT
Our Technical Sales Representatives are easy to reach by telephone, text or video call.