Proven performance in wildlife and fish passage solutions.
With a successful project pedigree spanning over 50 years and a few continents, AIL is your go-to partner in all types of wildlife crossings and fish passages. Our wildlife crossing specialists have worked closely with some of the sector's top authorities on wildlife behaviour and safe wildlife passage design.
We are proud to have partnered with Banff National Park on making their highways safer for all. Banff is a world leader in wildlife crossings, with wildlife-vehicle collisions being reduced by more than 80% and, for elk and deer alone, by more than 96%. No other location has as many and as varied types of wildlife crossings.
Put our expertise in the design of effective wildlife crossings to work for you, with engineered solutions made from Ultra-Cor, Super-Cor or Bolt-A-Plate Structural Steel Plate. For project assistance, call toll free 1-877-245-7473.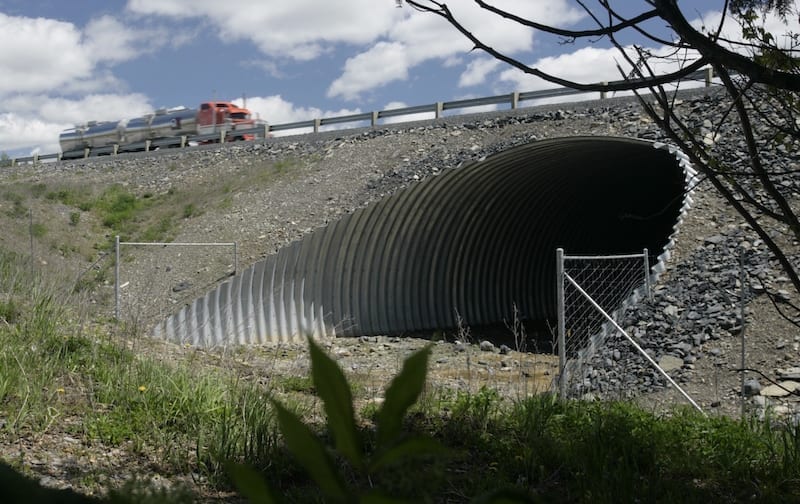 Wildlife Crossing Projects:
New Ultra-Cor wildlife overpass near Canmore, Alberta, expected to dramatically reduce collisions »
AIL's Wildlife Crossings making Banff highways safer »
Oil sands wildlife underpass supports heavy load »
BC recreation/wildlife underpass; eight-day plate assembly »
Tight site calls for two-stage construction of wildlife underpass »
---

We also specialize in Fish Passage Solutions
According to the size and nature of the crossing, we offer a variety of fish passage solutions in Structural Plate, Corrugated Steel Pipe or Atlantic Arch with integrated footings. Corrosion/abrasion-resistant Dur•A•Span Structural Aluminum Plate is particularly well-suited to saltwater or aggressive environments. We can also provide specialized fish baffle inserts for some fish passage designs.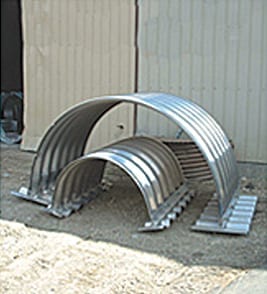 Fish Passage Projects:
GRS fish passage is first project completed through national conservation program »
Multi-partner team keeps Maine fish passage out of a Jam »
---
Minimal site impact
Our open-bottom structural plate crossings install quickly with less disruption to natural stream habitat when compared to their concrete counterparts. Plus, there is very little maintenance required over their service lives — further reducing impact for decades to come.
---
Recycled and recyclable steel
Many of AIL products use a high degree of steel, the world's most-recycled material. Given the increased awareness of "green" construction, steel is the material of choice because of its major recycled content and recyclability attributes. Steel products use less energy to manufacture, ship and install than their concrete counterparts.
---
Wildlife and Fish Passage Links and Resources
Significance of wildlife crossings, and general design/policy discussions:
Habitat Fragmentation due to Transportation Infrastructure, Wildlife and Traffic: A European Handbook for Identifying Conflicts and Designing Solutions (PDF) »
A general overview of why wildlife crossings are needed and how to design them.
A Guide to Road Ecology in Ontario (PDF) »
A presentation giving a general overview of wildlife crossing structures.
Gravel-bed river floodplains are the ecological nexus of glaciated mountain landscapes (PDF) »
Paper focusing on the importance of preserving riverbeds in mountain regions, implying that larger span, open bottom structures are biologically preferred.
Herpetofauna and Roads: How Can We Get Along? (PDF) »
ICOET 2015 DPW Paper summarizing best practices to reduce the cost of wildlife crossings. AIL structures are included.
Species-Focused Resources:
Larger Wildlife:
Culvert, Bridge, and Fencing Recommendations for Big Game Wildlife Crossings in Western United States Based on Utah Data (PDF) »
Utah Wildlife Paper featuring data on wildlife movement for various species on bridges and culverts.
Wildlife Use of Highway Underpass Structures in Washington State (PDF) »
Washington State data is presented on wildlife movement through various wildlife crossing structures. Includes an AIL Wildlife Underpass using a Super•Cor Structure.
Copy of presentation deck for the above »
Banff bears use Trans-Canada wildlife crossings to find mates »
February 18, 2014 Article on CBC Website
Wildlife Crossings Are Win Win. The question is When When? »
Article on medium.com
Herpetofauna:
Frogs on the Road & One Elusive Salamander (PDF) »
Corrugated Steel Pipe Institute Project Profile on a herpetofauna crossing.
Best Management Practices for Mitigating the Effects of Roads on Amphibian and Reptile Species at Risk in Ontario (PDF) »
Ontario Ministry of Natural Resources and Forestry, April 2016 publication on how to design herpetofauna crossings. Contains AIL Forestry Arch and Corrugated Steel Pipe Solutions
Aquatic:
Fish Passage Design Aids Wildlife Crossing in Washington State – State of the Practice (PDF) »
Paper summarizing better practices when sizing culverts/buried structures for fish passage.
Road Culverts: Nature's path under the road (PDF) »
A Swedish brochure offering an overview, from a biological perspective, of how to design better fish passages.
Corrugated Steel Pipe Institute (CSPI) Fish Passage Ladder Projects:
New CSP Fish Ladder Design Completes First Field Trial »
April 19, 2016
Saugeen River Fish Baffle »
February 17, 2016
Fish "Ladders" and other Creative/Technical Innovations Keep CSP on the Leading-Edge of Water/Soil Management Solutions »
Presentation to Transportation Association of Canada Conference 2013
Wildlife Crossing Organizations:
Algonquin to Adirondacks Collaborative (A2A) »
The Ontario Road Ecology Group (OREG) »
Yellowstone to Yukon Conservation Initiative (Y2Y) »